Everything you need to improve your game.
Armed and Dangerous Football Camp distinguishes itself from other training camps with experienced trainers who've played at the game's highest level. These football professionals understand the importance of the fundamentals, preparation and mechanics necessary to excel in the game of football.
Our proven process helps quarterbacks ascend to the next level of play by thoroughly analyzing each quarterback's throwing mechanics and footwork, building on their strengths, while uncovering areas for improvement.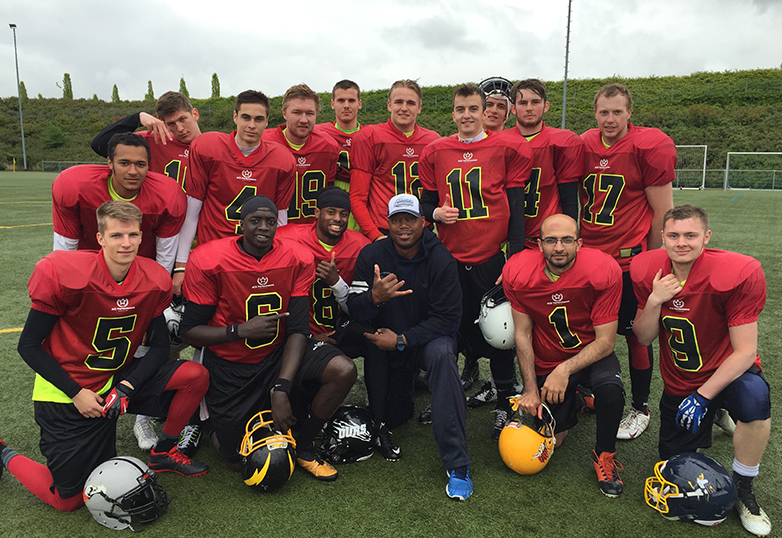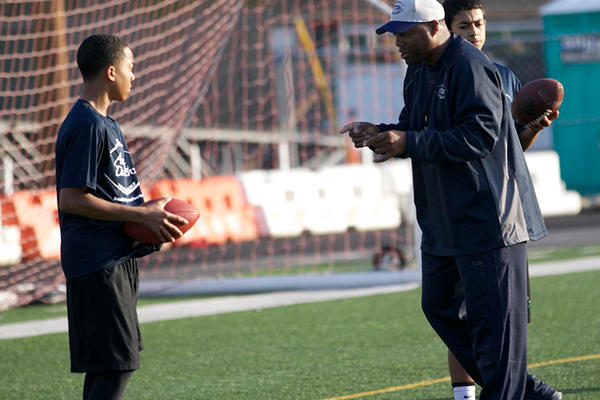 Why Steve is the best coach to train you?
Passionate quarterback and wide receiver coach who brings high energy and proven leadership skills to professional, collegiate, and high school football programs. 20+ years of experience developing quarterback/wide receiver skills and working relationships.
Expert in managing pre-game preparation, conducting film study and analyzing competitive strengths and weaknesses. Specializes in collaborating with coaching staffs to develop effective offensive strategies and winning game plans.
Committed to mentoring players and maximizing their potential on and off the field.
Who exactly is Steve Calhoun?
KEY ACCOMPLISHMENTS
Founder, CEO and President of Armed and Dangerous Football Camps for 15 years (sponsored by Adidas)
Coached 30+ quarterbacks and wide receivers privately and for the NFL draft (see bottom of this page)
Tenured Quarterback coach at prestigious Manning Passing Academy coach since 2013
Ranked top 5 quarterback coach in the country by Bleacher Report
Expert Commentator on Sports Illustrated Now Online Webcast
Premier talent scout for the European Football League
PLAYING EXPERIENCE
Quarterback - New Mexico State University (1991 - 1993)
Quarterback - German Football League (GFL) (1995 - 2004)
PROFESSIONAL COACHING EXPERIENCE
Armed and Dangerous Football - Anaheim, CA (2005-Present)
Founder, President and CEO of socal-based football camp specializing in quarterback and wide receiver training
Diagnose quarterback throwing mechanics, accuracy, release, pre-snap reads, and pocket presence
Analyze wide-receiver route running, catching, blocking, separation, acceleration and overall agility skills
Train on continuous, measurable performance improvement using proven NFL coaching techniques and metrics
QB clients include: Russel Wilson, Cody Kessler, Ryan Lindley, Jake Locker, Nick Foles, and Vernon Adams
WR clients include: Keenan Allen, Sterling Shepard, Marquise Lee, Kenny Stills, Robert Woods, Kyle Rudolph
Golden West College Quarterbacks Coach - Anaheim, CA (2008-2009)
Ran quarterback drills designed to optimize throwing, foot speed, pocket presence, and play calling skills
Servite High School Quarterbacks Coach - Anaheim, CA (2007-2008)
Coached Cody Fajardo who won Glenn Davis award as the best high school player in California.
J. Serra High School OC/Quarterbacks Coach - San Juan Capistrano, CA (2006–2007)
Developed play-by-play weekly game for nationally ranked team running a pro style offensive
Managed weekly offensive meetings with the coaching staff which includes; film study, player performance
What people are saying about Steve Calhoun
"In January of 2010 my 12 year old son Richard asked if he could train with a quarterback coach. He had just finished a 10-0 6th grade flag football season playing quarterback and was excited. After a few phone calls, Steve Calhoun was recommended, so I called him and he answered personally. We agreed to start Richard that week. I thought we'd do a few lessons and then be off to something else.
Little did I know that I had just signed my son up with one of the top QB coaches in the world. Three months later, Steve recommended I sign Richard up for youth tackle football. That summer, Richard began workouts with his Junior All-American team, and that Fall started every game and played every down at quarterback.
With only a few months of training, Steve had placed Richard in a position allowing him to start over other veteran players. After 2 successful years of youth football, we transferred to Santa Margarita Catholic High School, a Trinity League Div. 1 program. There, Richard realized his goal of playing at the highest level of high school football, leading his team senior year to the quarter finals of the CIF Div. 1 playoffs.
Throughout he continued to train with Steve on a consistent basis, often working out with Div. 1 college quarterbacks and receivers. On Feb. 1st, 2017, Richard committed to Cornell University, realizing his dream of attending one of the most prestigious academic institutions in the country while being able to play Div. 1 football.
Steve Calhoun has been instrumental in helping to pave the road Richard is on. He has been a true friend and mentor to Richard as well as me (the deer-in-headlights QB dad). I thank him for all his efforts, encouragement, friendship, and for continuing to answer his phone personally, and we look forward to 4 more years."
Rich Wagner
"Coach Calhoun started working with my son Patrick in 8th grade. Steve has been instrumental in Patrick's development as a quarterback teaching him proper fundamentals and mechanics from the beginning.
Steve's personal training and camps helped Patrick to become a successful high school quarterback and D1 recruit. Patrick continues to benefit from Steve's knowledge and experience. Thank you."
Paul O'Brien
"I have been training with Coach Calhoun for over 10 years now. He has taught me what it takes to be a successful quarterback in high school, college, and now the NFL. Coach Calhoun has not only taught me the physical aspects of playing quarterback, but the mental side as well. The attention to detail that Coach Calhoun emphasizes during every workout and rep has been extremely helpful for me. There is no other coach that I would have chosen to work with throughout my young career than Coach Calhoun, he is a huge reason why I am where I am today."
Cody Kessler – Cleveland Browns
READY TO TAKE YOUR GAME TO THE NEXT LEVEL?